Welcome to Brandt's Ice Fishing!
A Minnesota Resort on Mille Lacs Lake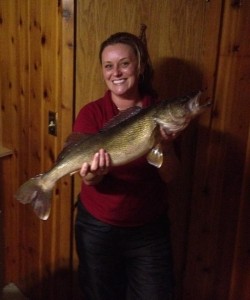 Brandt's has been in the ice fishing business for over 42 years. It is operated by the second and third generations. Brandt's ice fishing is located on the south shore of the great Mille Lacs Lake fishery. Jerry knows safe ice conditions and where the fish are biting.
With a rental fleet of 42 fish houses ranging in size from 4 to 12 holers with bunks, Brandt's can accommodate small to large groups and business outings. All of the rental fish houses are carpeted, have gas heat and lights and most have an attached bathroom.
NOW RENTING Spear Fishing Houses.
Brandt's also offers private fish house service and storage with well plowed roads to Mille Lacs Lake Mile and a Quarter Reef, Sloppy Joe's Reef, 4 & 5 Mile Gravel and our 7 Mile Mud.
While you are here, enjoy other area activities such as quick snowmobile access to the Soo Line Trail plus its' connectors, cross country skiing, snow shoeing and enjoy the popular local dining and entertainment.